Kauai is a magical island full of lush greens and awesome beaches and hikes. There are many wonderful relaxing resorts and many ways to spend your time on the island. Whether you want to relax, soak up the sun, sip cocktails, swim, or snorkel, Kauai has your nature needs!
Here are some activities to enjoy while enjoying Kauai:
Explore, Swim, and Snorkel at Poipu Beach 
Poipu is at the lower tip of the island. It's a beautiful public beach, and there is a nice Marriott resort near by. You can swim in the waves, lay our on the golden sands, and even snorkel. They have wild sea lions there too!
In that area there are many awesome restaurants and places to eat after you enjoy a day at the beach.
2. Cycle, Bike, or Walk along the Kapa'a coast trail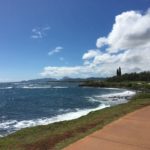 Kapaa is a cute little town close to Lihue airport. There is nice book trail along the coast that you can walk, run, or rent a bike. It's a flat route that goes past Kealia Beach, and curves around the cliffs. It takes about 45 minutes each way (depending on how fast you ride and how often you stop). Great for coastal photos and amazing beautiful views!
3. Go to Waimea Canyon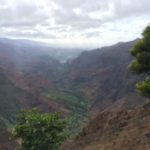 Get epic views and take a trip into nature at Waimea Canyon. Beware, the weather changes fast and it can be cold and much cooler than other parts of the island (or even rainy). There are fantastic hikes you can do. If you are not active or into hiking, you can always take a drive and enjoy the look out points and scenic surroundings.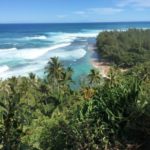 4. Drive through Hanalei Bay, and the North Shore End of the Island
The North part of the island is for sure not to be missed! Hanalei Bay has a cute shopping center and an organic market. Keep driving through and you will get to Kee beach at the end of the road. Depending on the tides and waves, this is a nice beach with a lifeguard where you can sit, swim, and surf.
There is also the Na Pali Coast State Park and trail at Kee beach. This is a popular hike! Beware, the parking fills up fast so go in the morning and early to get a spot. The hike is uphill and a bit rocky. Be sure to have good shoes, water, towel, and swim gear. The first part of the hike goes to a nice beach (approximately 2 miles). You can go further into a waterfall area, or do the whole 11 miles and camp. Google the hike for more information. There are spectacular views of the Kauai coastline, and well worth the hike and time!!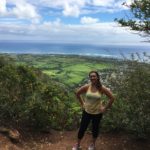 5. Hike the Sleeping Giant near Kapaa
Looking for a nice hike in Kauai, or perhaps traveling alone and want to be in nature? Hike the sleeping giant trail head. The trail in on Kauai's East side. There are multiple ways to go up it. At the top you get an amazing view of Kauai, the coast, and even the evergreen landscapes in the mountains. It can be muddy, do be mindful of the weather and be sure to have good shoes.
The trail takes you up to a nice overlook with a picnic table, and bench with a view of the water. You can continue to go further and keeping hiking up for more higher views. There is some rock climbing though at the higher areas. It's about a 2 mile hike. It probably takes about 45 minutes – 1 hour each way, depending on how fast you climb!