Best Ice Cream – San Diego & Encinitas, Ca
Jo Jo's Creamery is the best ice cream in San Diego.
Located in the Encinitas Lumber Yard, on Highway 101, this is a must stop, if you have a pallet for ice cream.
937 S Coast Highway 101, Ste 106
Encinitas, CA 92024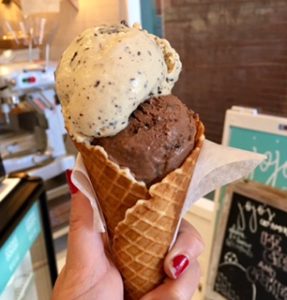 It's a family owned business, with superior ice cream quality, organic ingredients, and smiley, friendly staff.
Taste so good, with gluten free and vegan ice cream options, it's sinless.
Although I don't personally do much dairy, I do love ice cream. Jo Jo's creamery uses the best dairy products.  I never feel sick after consuming, and have no fear treating myself to their dessert. I love that they use organic Strauss Family Dairy products, have vegan and gluten free ice cream options, and seasonal flavors. It's cute, classy, with small business vibes, and lots of delicious ice cream flavors!
Jo Jo's creamery has created a new, trendy way to consume dessert and enjoy ice cream, and cookies!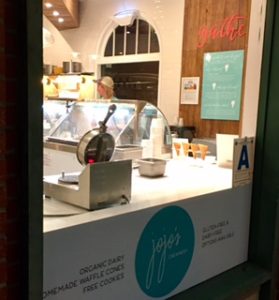 They serve chocolate chip home baked cookies with every ice cream order. You can choose gluten free cookies or regular, and even pay $1 more to upgrade to a full cookie size. Their classy ambiance encourage a sinless trip to their unique ice cream store.
Jo Jo's Creamery prides themselves in being a place for people of all ages, "to gather and enjoy artisanal, homemade ice cream, with a chocolate chip cookie."
They will make your day sweeter, one scoop at a time!
I bet you won't be able to walk away with just one flavor. They offer many unique ice cream varieties, and vegan ice cream flavors, that will surely soothe your sweet tooth and tame your tummy. For vegans, Jo Jo's creamery always has two different vegan flavors available. They mark all their flavors well, and specify what is gluten free, vegan, and dairy.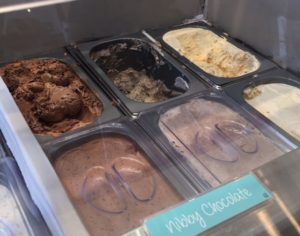 Thank you Jo Jo's Creamery for being my new, hip, healthy, and enjoyable ice cream joint! I love supporting local businesses, and nourishing the kid in me with a sinless ice cream cone!
Warning: once you try their ice cream, you won't be able to stay away!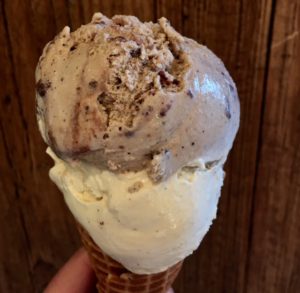 Kali Bliss Recommends:
Their very vanilla bean homemade ice cream is THE BEST.
I LOVE their mudpie flavor.
Do taste the mint cookies n' cream
They have the best vegan chocolate I've ever tasted
Their peanut butter cup is also quite divine
If you like sweet and spicy, try the cayenne sea salt carmel, it's different and very carmelly with a flair
I love Jo Jo's creamery because it is in the only ice cream shop in America where I have been able to get a homemade gluten free waffle cone.
As an ice cream lover, and because I'm still a child at heart, I love going to Jo Jo's to treat myself, enjoy fine high quality delicious ice cream, and never feel guilty indulging because of the good ingredients. Personally, I always get the cone, with as many flavors as I can 😉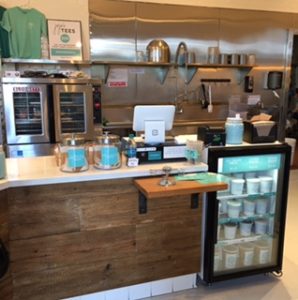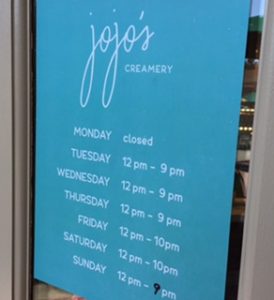 Take a trip to Jo Jo's Creamery and enjoy an authentic and amazing ice cream experience that can serve any and every palette!
See Jo Jo's Creamery menu for current flavors too.
Note: They are usually closed on Mondays, check their hours and schedule online to be sure though.
Jo Jo's ice cream was started by a mother and daughter who were both lawyers. They wanted to do something else with their life, and started this classy Encinitas ice cream shop!
Let me tell you, it's the best ice cream in San Diego, and North County!