Cafe Gratitude – The Best Healthy Food in San Diego
Take a trip to Cafe Gratitude.
This restaurant is heaven on Earth for all you gluten free, vegan, health obsessed, organic foodie palettes! Their food is 100% organic, and they have a large menu of crazy healthy drinks and concoctions. Cafe Gratitude is the new hip healthy eating place, completely worth the money and time to check out! Their staff is friendly, and the clean environment is welcoming, filled with a menu that will suit everyones needs.
Go into Cafe Gratitude with a positive attitude because you will have order with the words "I am…". All their menu items are uniquely themed and labeled with positive affirmations for your own well being.
Cafe Gratitude is located downtown San Diego on Kettner Blv, however they have restaurants all over California. They have a wide variety of tasty healthy good, perfect for the vegan and gluten free yogic diet! Have no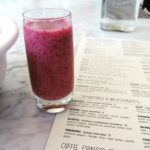 fear, even if you are against healthy food or anything with a vegan twist, the food still taste amazing. There are plenty of treats on the menu too for your sweet fix.
Head down to Cafe Gratitude in the morning for a quick pick me up coffee and some gluten free pastries, like blueberry coffee cake or gluten free donuts! Cafe Gratitude also has a variety of juices on sale and they offer cleanses for anyone wanting a detox. Check out their tonics and juice shooters too! Cafe Gratitude has all sorts of healthy juices and drinks to help you feel good and help restore your mind and body.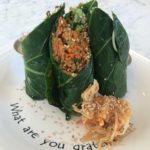 I love going to Cafe Gratitude for a late lunch, or during their happy hour 4-6pm. I frequently sit at the bar alone, and date myself and treat myself to a healthy gluten free feast. Sometimes, if you sit at the bar, they staff gives you blended samples from their drinks. The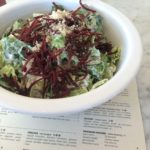 ir food is rich and filling and enough to satisfy a hungry stomach and fill you for the evening. Happy hour features organic wine and beer and a some appetizer dish discounts.
I recommend the 'I Am Thriving' to start with, which is the Chef's seasonal soup, and changes daily. If you are in a group get the 'I am Sharing', a GF Nacho style dish that will help you snack before your main dish comes. 'I am Magical' is one of my favorite Cafe Gratitude dishes, not only for the name, but also for the tasty black bean veggie burger and sweet potato fries. It is unlike anything you can get anywhere else!
Be mindful, Cafe Gratitude changes their menu seasonally and continues to change their dishes, based on what is in season. I recommend taking a trip to Cafe Gratitude at least twice a year to chow down on some good food and have your own healthy celebration! You can read more about Cafe Gratitude's menu here.
Don't forget to see their desert menu and take a look at all the guilty free sweet choices! My favorite, is their mint chocolate chip smoothie, made with almond milk, coconut ice cream, mint, and cacoa. It's delightful and  the best thing to a (milk-less) milkshake you will ever drink! You won't be disappointed.