Keoki Restaurant in Poipu, Kauai
Located in Poipu shopping center, Keoki's is a fabulous dining experience with exceptional food. They have a wide range of options from fish, to tacos, burgers, and more. The ambiance inside full of lush greens and a nice outdoor patio that's enclosed, so you feel like you're in the rainforest. It's located right near Poipu beach, and easy to find.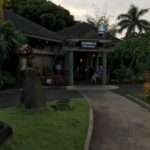 Keokis Restaurant
2360 Kiahuna Plantation Dr, Koloa, HI 96756
Keoki's happy hour, or 'Aloha hour' is fabulous, with $6-$8 beers and wines. They have $4 tacos daily! I recommend their on tap Chardonnay. Keoki's offers a large and find wine list, and I love how they have sustainable brands and local options.
I recommend their grill fish tacos… and of course, if you have room for desert try their Hula Pie with macadamia nut ice cream. It's not as sweet and heavy as it looks. It is so so tasty!
They entrees range in price from $15-$35. They have fresh fish, gluten free options, and a very wide range and healthy menu. Check out their options on Keoki's website.